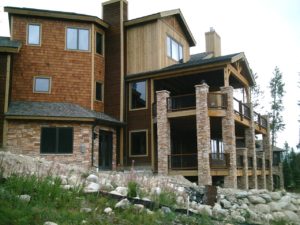 Slomax provides the best quality residential stonework you can find in Colorado. Our homes have a flawless finish that will blend the natural stone with your natural surroundings. Slomax masons are experts in working with indigenous stone to provide the Colorado-look and feel to your construction. Our experienced Masons are experts working with Stone, Brick, CMU Block, AAC Block, Stucco, and are adaptive to anything Masonry.
As the Construction Industry Changes, Slomax Masonry has adjusted to the times with the Introduction of Natural Thin Stone Veneers, AAC Block, Cultured Stone and New Stucco technologies that perform well in the Rocky Mountain climate. Slomax Masonry is based in Grand County, Colorado, and with our extensive Distribution Pipelines we are able to service Colorado and the broader Rocky Mountain Region.
Call or email us today to discuss your project and find out about all of the stone services we can provide.